* Sitar Review Class with Tomek Regulski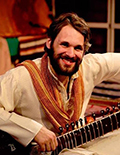 This class directly correlates with the Sitar workshops led by Acharya Roop Verma. It is an opportunity to revisit the material and focus on featured concepts and techniques. Tomek takes the time to observe each student individually, give guidance on proper technique, and offer his own experience as inspiration and illumination on the journey to learning this beautiful art.
Beginners' class by appointment.