* Introduction to Sitar with Tomek Regulski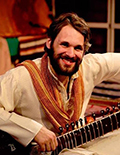 A beginner's class covering the fundamentals and basic techniques of the Sitar, recommended for anyone interested in learning the foundation of Indian classical music through the vehicle of the Sitar. Exercises, music theory, approach to practice and instrument care will be included. Everyone is welcome. Please bring your own instrument.
After this class you may proceed to the Sitar Review Classes on Saturday afternoon or Sunday in order to deepen your experience and understanding.